When the two trends of breakfast and snacking collide, a "tremendous" opportunity for food service operators appears — one that could drive traffic and pique consumer interest, according to a collaborative report from The J.M. Smucker Co. and Technomic, Inc.
"Operators are learning that marrying breakfast with snacks is a recipe for success," the report said. "Both are popular food service occasions with consumers and together offer a tremendous amount of opportunity for operators to drive traffic. Further, breakfast snacks fit into consumers' demanding on-the-go lifestyles that leave little time for traditional sit-down meals. Larger industry trends, such as the growth of all-day and second breakfast, also showcase the need for more breakfast snacks at restaurants."
Two-thirds (66%) of consumers find breakfast snacks appealing, the companies' study found, with those coming from a mixed ethnic background showing the most interest at 82%. The highest interest in breakfast snacks — 84% — comes from men ages 25 to 34.
Not only do consumers react favorably to the breakfast snacks concept, but 54% said they would like to see more of them on restaurant menus. Millennials are the most likely group to seek snackable breakfast items on menus (66%), with Gen Z and Gen X following close behind (both at 59%).
Of all breakfast snacks, consumers are most likely to purchase fruit at least sometimes, with 66% saying they do so, the report said. Other lighter breakfast snacks purchased occasionally include cereal (53%), yogurt (45%) and oatmeal (41%).
"This preference speaks to consumer interest in better-for-you options during snacking occasions," the report said.
However, indulgent offerings are still sought out by many. Fifty-three per cent of consumers said they occasionally purchase breakfast sandwich snacks, 51% opt for donuts, 48% buy bagels and 46% purchase hash browns.
"The popularity of these items speaks to consumers' gravitation toward comfort foods, even during snacking occasions," the report said.
Innovation in the category need not be groundbreaking to be effective, the companies said. Small changes can make a big difference.
"Menuing breakfast snacks doesn't need to be a challenge," the report said. "Operators with breakfast can create snacks by reducing the portion size or changing the presentation of a dish. Even non-breakfast operators can easily craft breakfast snacks using common kitchen staples such as eggs, peanut butter and oats to make items such as mini quiches and breakfast bars. And don't forget liquids as viable breakfast snacks, which opens the door to any operator offering drinks such as coffee and smoothies to capture these snacking dollars."
Read on for five ways to embrace the breakfast snacks opportunity:
Make it mini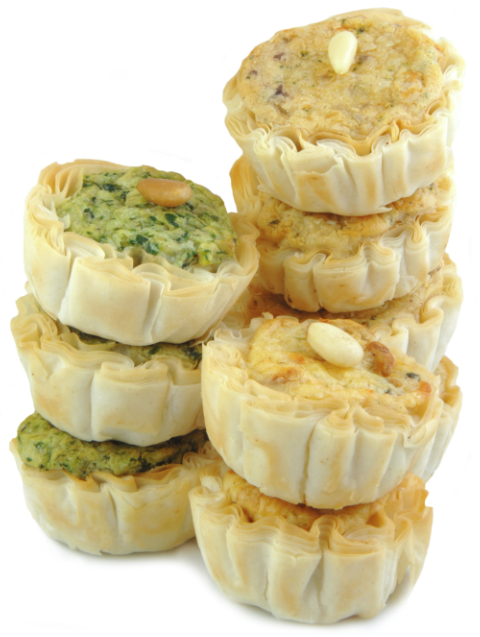 Miniaturizing breakfast mainstays such as muffins or quiches may allow operators to position these items as snacks.
"Because smaller items often resonate as snack food, operators can enhance the appeal of their snack selections by shrinking the portion size of popular dishes," the report said. "Muffin tops, pancake balls, French toast sticks and mini quiches are all examples of how to turn well-loved breakfast foods into smaller morsels."
Highlight the light
Lighter meats and plant-based proteins may signal "snack" to consumers more than satiating proteins. For example, operators may exchange traditional bacon for turkey bacon.
"The filling aspect of some meats, such as pork and beef, may deter guests from purchasing protein-filled breakfast snacks," the report said. "Try swapping better-for-you meats or plant-based items — such as turkey bacon, chicken sausage and tofu — in place of traditional breakfast proteins such as bacon and sausage."
Position it as portable
Nearly two-thirds of consumers prefer to take their snacks on the go, the report said, with 62% saying sticks, cups, bowls, wraps and other portable presentations appeal to them. To cater to those convenience seekers, operators may offer fruit kabobs, pancakes on a stick or yogurt parfait cups.
Breakfast bars are also a portable option, but only 29% of consumers buy them as snacks.  This offers an opportunity for manufacturers, Technomic and Smucker said.
"Since 3 out of 10 consumers occasionally purchase breakfast bars as snacks, operators can enhance the appeal of these items by making them from scratch using common kitchen staples such as oats, nuts, seeds and nut butters," the companies said.
Another way to market to on-the-go consumers is to offer beverages as breakfast snacks.
"Highlighting flavors from popular breakfast items in drinks such as smoothies or coffees is one way to create craveable beverage snacks," the report said. "Morning fare that translates well as a flavoring in liquid form include cinnamon rolls, French toast and donuts."
Offer it all day
Consumers continue to express interest in purchasing breakfast fare outside morning hours, as evidenced by a recent surge in second breakfast popularity.
"Some consumers are shunning big breakfasts in favor of a smaller morning meal followed by a second breakfast, which is another morning meal or snack that is eaten after breakfast but before lunch," the report said.
The meal is a traditional custom in European countries but is gaining favor in the United States. Thirty-one per cent of consumers said they typically eat a second breakfast, with millennial (57%) and Hispanic (50%) consumers leading the trend.
All-day breakfast offerings also capitalize on the trend of consumers craving breakfast foods throughout the day. Fast-food chains such as McDonald's, Taco Bell and Jack in the Box have all seen success with their all-day breakfast menus, which include snackable offerings such as McDonald's Bacon, Egg & Cheese McGriddles, Taco Bell's Breakfast Crunchwrap and Jack in the Box's Mini Pancakes.
"Breakfast snacks are gaining popularity as consumers' busy on-the-go lifestyles force them to seek more portable options over plated breakfasts," the report said. "This is a prime opportunity for operators to promote a selection of craveable and better-for-you breakfast snacks throughout the day, including as a second breakfast and late-night munchie option."
Stretch to other sales channels
Breakfast snacks may benefit more than just restaurant operators. Convenience stores grocery outlets, educational programs and recreational facilities are all "well-positioned" to sell these snacks, the report said.
"Noncommercial operations such as colleges and universities and K-12 programs can have fun with food by offering snacks with a breakfast twist to appeal to younger diners," the report said. "Recreation facilities, which are known for their funky food formulations, may also take advantage of an item like breakfast snacks, such as a breakfast pizza bite. And convenience-store and grocery operators are also well-positioned to add more breakfast snacks as they continue to grow their food service programs."